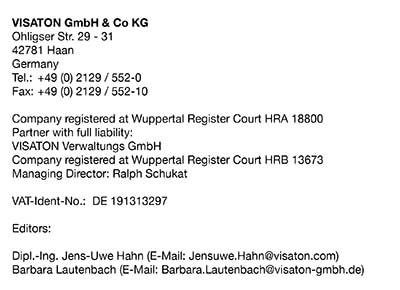 VISATON is a registered trademark of VISATON GmbH & Co. KG. All rights to copy, product photos and technical drawings are exclusively the property of VISATON; their use is subject to prior written permission.
Any other use is strictly prohibited. ICE 3 is a registered trademark of Deutsche Bahn AG. The photo of the ICE 3 is reproduced here with kind permission of the Siemens/Adtrans workgroup in conjunction with Deutsche Bahn AG.
Privacy statement
The gathering and storage of personal data is in compliance with German data protection legislation. All employees charged with handling confidential data are required to sign up to our confidentiality rules. This applies equally to external subcontractors. Provision of data to Third Parties is limited to the extent required for order management and order processing and is governed by data protection legislation. Any transfer of data to State institutions and authorities is strictly limited to the extent required by law.
Web analysis services
This website uses the PIWIK web analysis tool that collects data for marketing and website optimisation purposes. The data is used by us to develop the offers provided on the website in line with customers' interests. PIWIK uses cookies, that is, small text files, that are stored on the user's local PC to enable an analysis of how the website is used. To this end, the user information stored in the cookies is transferred to the server where it is stored and analysed. The IP address of the user is immediately anonymised to prevent any identification of the user.
Users can adjust the settings of their browser to prevent the use of cookies; however, we would like to point out that, in that case, it may not be possible to use all the functions of this website to their full extent. If a user wishes to object to the storage and analysis of his or her data, it is possible to store an opt-out cookie in the browser permanently, which will prevent any data being gathered. Users should, however, be aware that clearing the browser cache and deleting cookies will also remove the PIWIK deactivation cookie.
Objection
AddThis bookmarking service
This website contains AddThis plugins from the AddThis bookmarking service LLC, 1595 Spring Hill Rd, Suite 300, Vienna, VA 22182, USA, that allow users to store bookmarks (also known as favourites) and to share interesting website content.
When AddThis is used, cookies are created. The information generated by the cookie is transmitted to an AddThis LLC server in the USA where it is stored. Further details of the way AddThis process your data and the data protection implemented by AddThis LLC can be found at www.addthis.com. This site contains, in particular, information on the type of data processed, as well as its intended use. The data affected is not processed by us at all. By using the AddThis box you agree to the processing of information collected by AddThis LLC to the extent explained on the www.addthis.com website.
Objection
Here you can decide whether or not you wish to object to the use of your personal data by using an opt-out cookie (see link below). Please be aware that clearing the browser cache and deleting cookies will also remove this AddThis deactivation cookie.
Click here to disable the use of AddThis.
Our websites may contain links to other websites maintained by third-party enterprises to which this privacy statement does not extend.
If you have questions about data protection, please contact the company data protection officer.
Disposal of Electrical and electronic equipment (EEE)

For the protection of the environment and the human health, products marked with the symbol of the crossed-out waste bin shall not be discarded together with household waste, but must be collected separately. Please contact your local municipality for information on authorized collection points in your area.