Technical Data
Sketch
Amplitude & Impedance Frequency
| | |
| --- | --- |
| Rated power | 75 Watt |
| Maximum power | 115 Watt |
| Nominal impedance Z | 8 Ohm |
| Frequency response | fc - 4500 Hz |
| Mean sound pressure level | 90 dB (1 W/1 m) |
| Excursion limit | 18 mm |
| Resonance frequency fs | 45 Hz |
| Magnetic induction | 0.85 Tesla |
| Magnetic flux | 530 µ Weber |
| Height of front pole-plate | 6 mm |
| Voice coil diameter | 3.3 cm |
| Height of winding | 1.2 cm |
| Cutout diameter | 18.4 cm |
| Net weight | 1.18 kg |
| D.C. resistance Rdc | 6.8 Ohm |
| Mechanical Q factor Qms | 3.66 |
| Electrical Q factor Qes | 0.76 |
| Total Q factor Qts | 0.63 |
| Equivalent volume Vas | 50 l |
| Effective piston area Sd | 213 cm2 |
| Dynamically moved mass Mms | 16 g |
| Force factor Bxl | 6.4 T · m |
| Inductance of the voice coil L | 1.2 mH |
Used in / Accessories: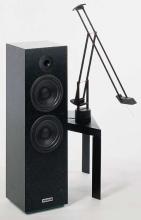 Connoisseurs of crisp, powerful bass and clear higher range frequencies, coupled with excellent power-handling capabilities, will welcome the 65-litre FIESTA 20 speaker, because it was designed specifically for them.
A special crossover circuit enables the two W 200 NG 8 Ohm to work in the bass range in tandem up to around 120 Hz. After that, the output level of the lower speaker is lowered and the upper W 200 NG 8 Ohm takes over the mid-range. The pressure chamber system of the DHT 9 8 Ohmproduces high-range dynamics with amazing signal fidelity and is effectively protected against overloading by the voltage attenuator connected in series.
The special sound characteristics of this system will appeal mainly to rock music fans. This musical genre often requires high output levels and needs the right punch in the bass range. It is precisely these features, good power handling capabilities and authentic bass reproduction coupled with a moderate price that make the VISATON FIESTA 20 what it is.