New products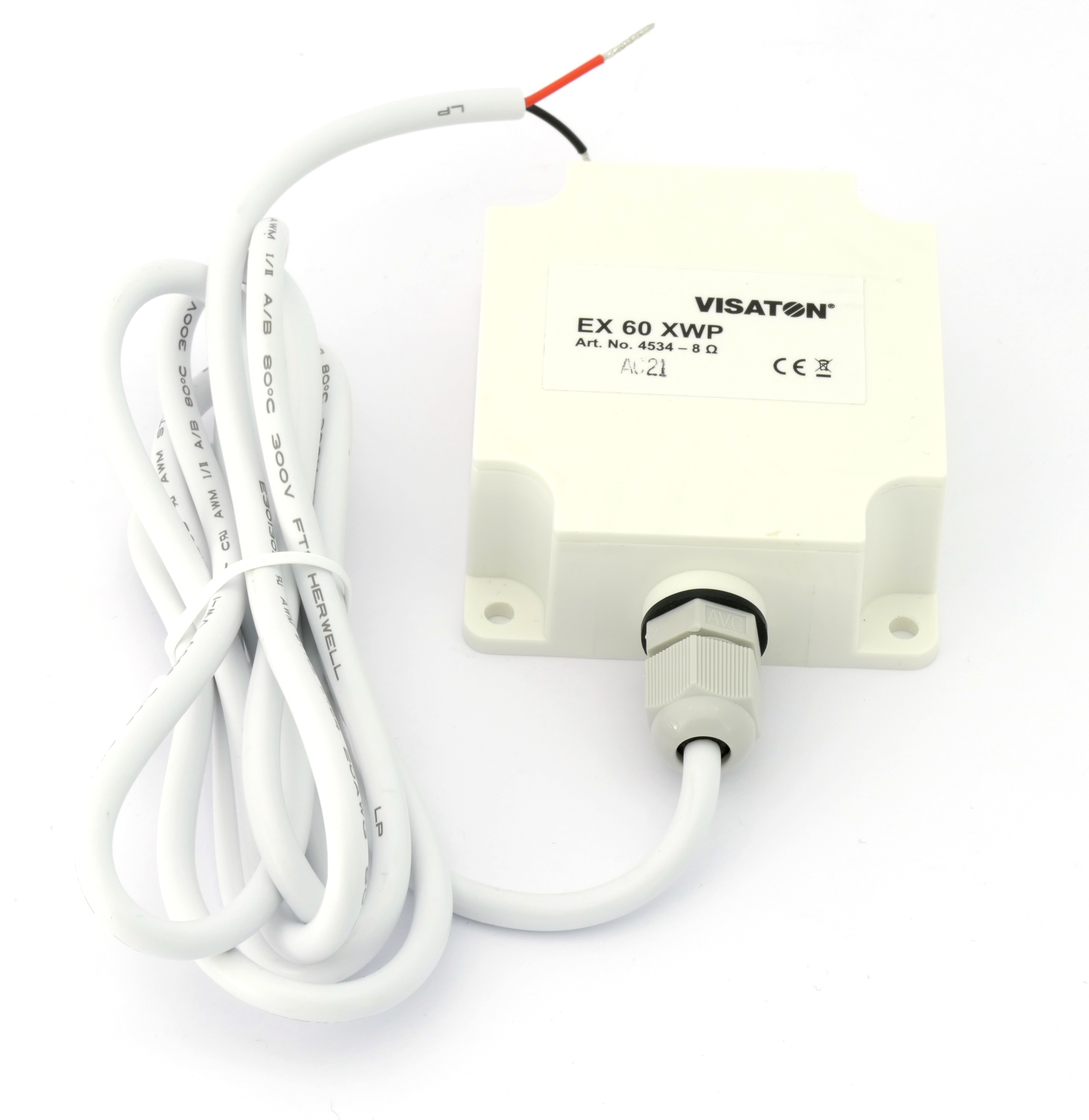 Electro dynamical exciter for stimulating bending waves on plates in a water prrof plastic cabinet. The unit can be attached to the surface of the plate by gluing or screwing. Electrically, the exciter is controlled via a 1.5 m long supply cable. Please find further information on exciters here: Basic priciples of exciter-technology (PDF; 388 KB)
Please find further information on exciters here: Basic principles of exciter-technology (PDF; 388 KB)
*) Maximum long term power according to DIN EN 60268-5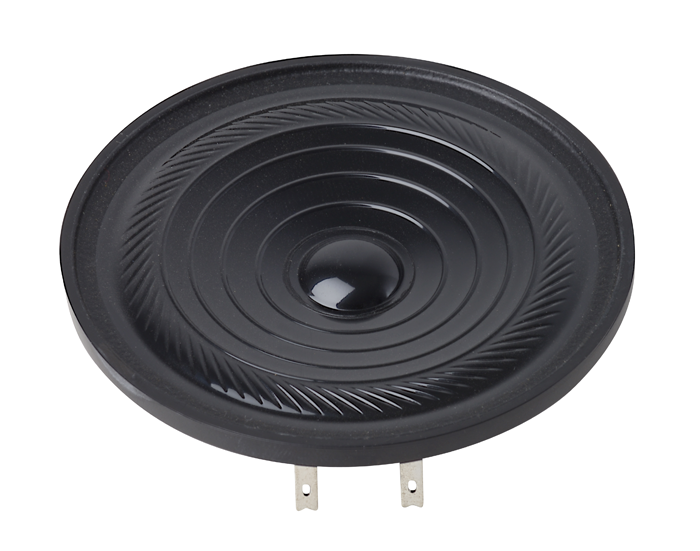 7 cm (2.8") full-range speaker with plastic basket and plastic diaphragm. Broad frequency response ad good voice reproduction. Particularly well suited to outdoor applications and where ambient conditions are generally unfavourable (e.g. high humidity).
7 cm (2,8") Breitbandlautsprecher mit Kunststoffkorb und Kunststoffmembran. Breiter Übertragungsbereich und gute Sprachverständlichkeit. Besonders geeignet für Anwendungen im Außenbereich und unter Kritischen Umgebungseinflüssen (z.B. Feuchtigkeit).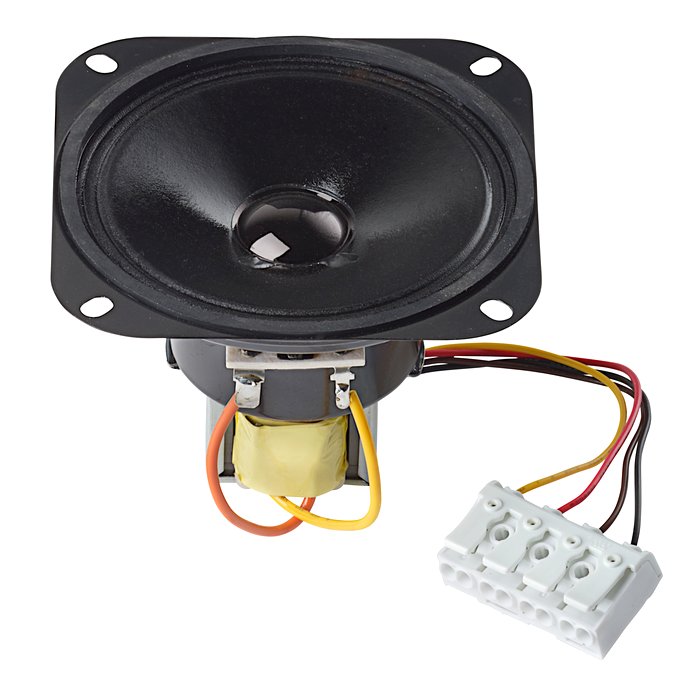 Magnetically shielded 10 cm (4") fullrange speaker with high efficiency, balanced frequency response and high frequency rise for good off-axis speech intelligibility. Water-repellent cone and rubber gasket. Especially suitable as speaker for public applications and public transport systems. With 100 V transformer. An Adels-Contact push-terminal block, which can be fixated via catch pins, allows quick and easy connection to a 100 V network.
Magnetisch abgeschirmter 10 cm (4") Breitbandlautsprecher mit hohem Wirkungsgrad und ausgeglichenem Frequenzgang mit Hochtonanstieg. Dadurch sehr gute Sprachverständlichkeit auch unter Winkel. Wasserabweisende Membran und Gummidichtung. Besonders geeignet als Einbaulautsprecher für öffentliche Verkehrsmittel und Einrichtungen. Mit 100-V-Transformator. Der Anschluss an das 100-V-Netz sowie die eventuell notwendige Pegelanpassung erfolgt durch einen einfach zu handhabenden Adels-Contact Steckverbinder, der sich über Rastzapfen befestigen lässt.

*) IP-Schutzklasse für Frontseite bei Einbau in ein abgedichtetes Gehäuse (ggf. ist eine Verklebung des Lautsprechers notwendig)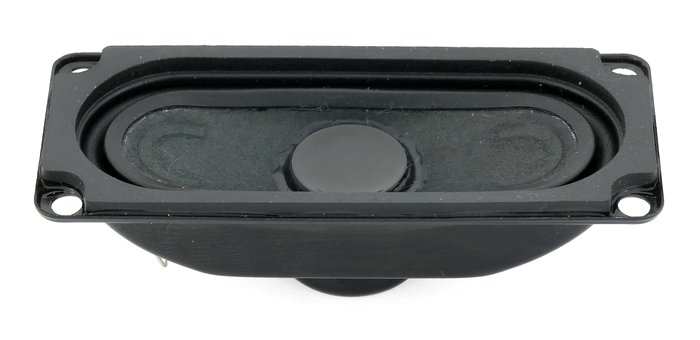 3 x 7 cm (1.2" x 2.8") fullrange driver with balanced frequency response and a clear highrange reproduction. Extremely small size due to a neodymium magnet system. Applicable as built-in speaker in TV's and PC's with very small mounting space.

*) IP protection class for front side when built into a sealed enclosure (gluing of the loudspeaker might be necessary)
3 x 7 cm (1.2" x 2.8") Breitbandlautsprecher mit ausgeglichenem Frequenzgang und klarer Hochtonwiedergabe. Minimale Einbauabmessungen durch Verwendung eines Neodym-Magnetsystems. Zu den Anwendungsbereichen zählen Einbaulösungen auf geringstem Raum in Fernsehern sowie in PCs.

*) IP-Schutzklasse für Frontseite bei Einbau in ein abgedichtetes Gehäuse (ggf. ist eine Verklebung des Lautsprechers notwendig)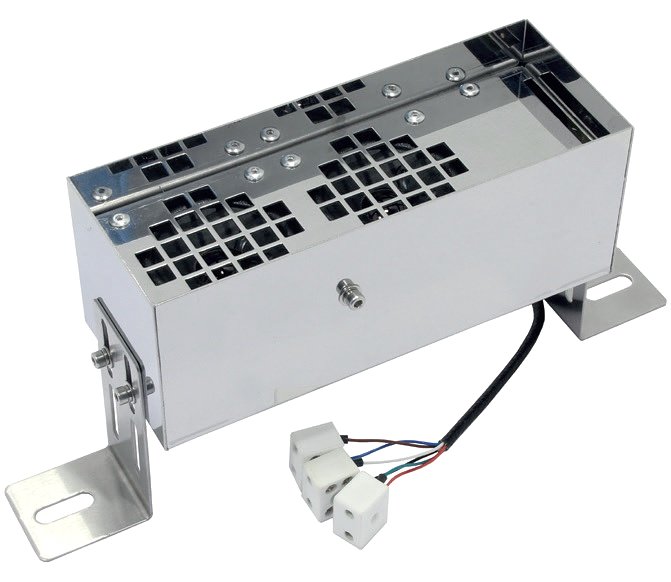 Cabinet-housed speaker for use in lighting systems. Stainless steel cabinet (V2A). Equipped with two 7 cm
fullrange
speakers and an 100 V transformer.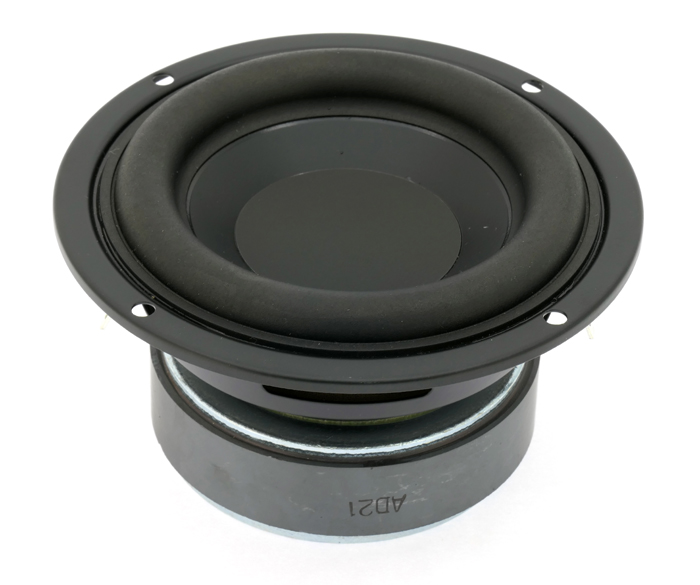 10 cm (4") woofer with low resonant frequency and compact size. The wide and elastic rubber
surround allows for a large excursion. A 2x4 Ohm dual voice coil allows 2, 4 and 8 Ohm
operation, as well as stereo connection, for example via the rear channels of a car radio. The
easy-to-install and visually appealing metal basket make the W 100 X a versatile subwoofer
for hi-fi and industry.
Possible connections: (1) one voice coil not connected (2) both voice coils in series (3) both voice coils in parallel
16,5 cm (6,5") Tieftöner mit schwarzer Glasfasermembran, Metallkorb und robuster Gummisicke. Dank einer perfektionierten Auswahl der Materialien und Kleber, kann der Lautsprecher auch unter extremen Umweltbedingungen, z.B. bei starker Hitze oder Kälte eingesetzt werden und dort für das notwendige Bassfundament sorgen.
Die computeroptmierte Aufhängungsgeometrie, fokussiert auf möglichst großem Hub und geringem Bauraum, erlaubt enorme Schalldruckpegel ohne eine schlagartige Begrenzung zu befürchten. Damit ist der W 165 A - 2 Ohm der perfekte Spielpartner, speziell wenn es um hohe Robustheit gehen soll.