| | |
| --- | --- |
| Tube length | 19 cm |
| Cutout diameter | ø 63 mm |
| Surface of opening | 24 cm2 |
Used in / Accessories: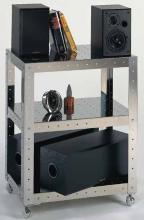 Just because your sitting-room isn't large enough for big speakers, doesn't mean you have to do without high-quality sound. The VISATON subwoofer satellite system, ALTO Genesis, provides excellent listening pleasure in a very small space.
Separating the subwoofer into two cabinets - left and right channels - means that the assignment to the corresponding satellite speaker is hidden. On the other hand, the two subwoofers can also be placed together as mono subwoofers. The bandpass subwoofer cabinet contains the 13 cm long-stroke woofer W 130 S - 8 Ohm. The well-balanced driver, cabinet and frequency parameters enable the subwoofer to be separated off at 110 Hz with a slope rate of 30 dB/octave. That is a level seldom achieved even by active subwoofers. The satellite speakers are also steeply cut off towards the bottom end by means of an optimised crossover unit. This optimised coupling technique means the position of the subwoofer is in reality not determinable.
The small shelf-mounted satellite speakers produce the lively high frequencies and a balanced mid-range and provide the overall spatial qualities required. The tuning frequency cuts in at 110 Hz.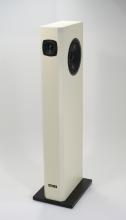 To be clear from the start: these small sized STELLA LIGHT speakers pack a considerable punch. While the outer appearance of the speakers might be described as compact or even sweet, this definitely does not apply to the maximum sound pressure of which they are capable. The combination of universal full-range FRS 8 - 8 Ohm loudspeaker and W 170 S - 8 Ohm woofer stands out because of its unbelievable level accuracy.
The fact that the separating frequency is at a very low 200 Hz benefits the STELLA LIGHT's positioning accuracy and generates an image of the stage that easily earns the "live" label. The FRS 8 - 8 Ohm full-range loudspeaker is remarkably detailed in its output: even the higher frequencies are reproduced accurately and with clear focus. Complemented by the W 170 S - 8 Ohm woofer, this combination covers almost the full range of frequencies required.
Whether used as computer speakers to the left and right of the desk or as a stereo set for the sitting room or bedroom, thanks to the excellent value-for-money price, these speakers can be used universally in many different environments without making too large inroads into your wallet. The simple, effective and intriguingly designed series crossover rounds the system off to produce a low-priced, quality building kit.
After all the cables have been positioned in the cabinet, the cable opening in the divider will have to be sealed off with e.g. hot-melt glue.